How to choose the right florist for your wedding?
Floral arrangements on tables, flowers scattered in the church or at the town hall, plant decorations of all kinds, flower crowns: flowers play a central role at a wedding, adding a poetic touch. And of course there's the traditional bouquet, almost an integral part of the bride's outfit.
But with so many species and combinations to choose from, seeking expert advice is probably the best option! A florist not only knows how to create beautiful arrangements, but can also advise you on which colors and seasonal flowers to choose, and can also be highly creative in proposing original decorations.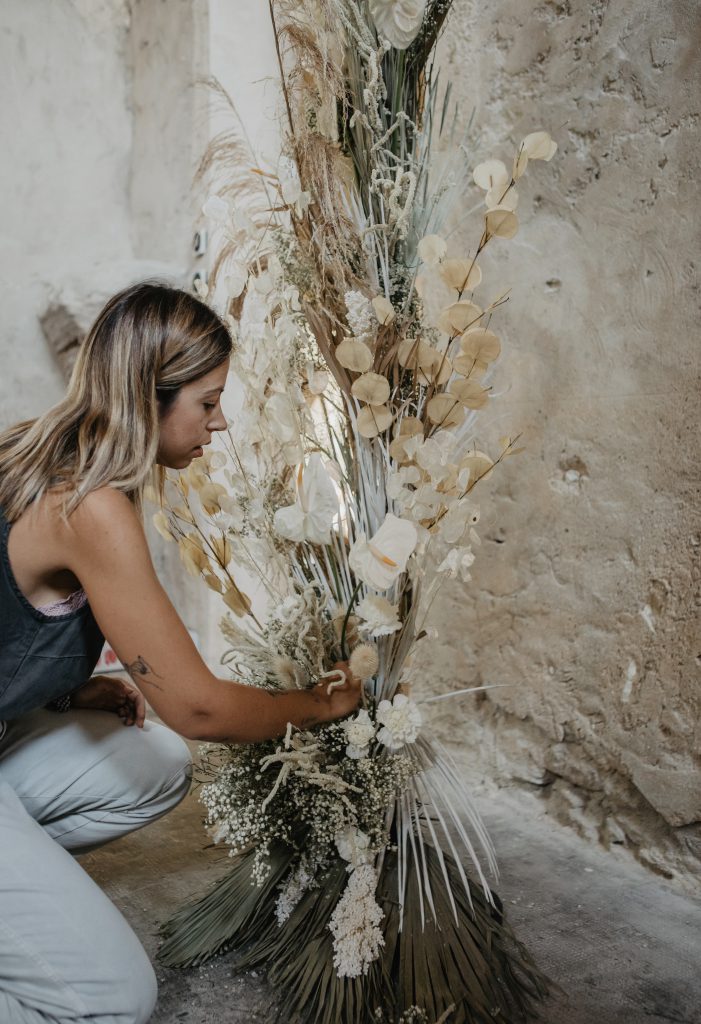 What style for your floral decor?
There isn't just ONE floral art, but dozens of ways of presenting flowers and other plants. So find out in advance which style you prefer, based on existing decorations or your theme: Japanese floral art, modern and refined art, vegetal style, etc. In this way, you can make an initial selection of florists based on their previous work.
"Flowers as symbols of your commitment.
Fresh or dried flowers?
Traditional roses and orchids are still the best choice for weddings. They're generally preferred fresh, for their lovely colors and distinctive scent. But there are also many other beautiful flowers to choose from for your wedding: lily of the valley, lilac, nigella, daisy, peony, etc. However, to have fresh plants at reasonable prices, you need to choose them in season. A florist's expert advice will help you make the best choices.
Don't forget dried flowers, which have been very fashionable in recent years. They can be used to create country, rustic, Provençal or romantic bouquets and decorations. Among the florists who have already worked at Le Petit Roulet, the Tepee Sauvage workshop has almost made a specialty of these dried plant arrangements, sometimes mixed with fresh flowers.
What services do you offer?
You've no doubt thought about the bride's bouquet and the various decorations at the reception site, but did you know that a florist can take care of many other key elements of your wedding? In the hands of a talented florist, flowers can indeed take on a thousand forms to add their decorative, romantic and joyful touch.
Fleurs de Fée creates, for example, beautiful plant arches, chair decorations, flower crowns, etc.
Flowers also embellish many accessories for brides and bridesmaids, as wedding specialist Soliane proves. Designer of floral jewelry, boutonnieres, decorated wedding-ring holders and hair accessories, she allows flowers to find their place right down to the smallest detail!
In terms of service, look beyond the purely creative aspect and ask the right questions: will the florist take care of setting up the decorations? Can he provide decorative elements other than flowers, to create a real atmosphere? Can he show you a fairly faithful representation of the project he has in mind, in the form of sketches or photos for example?
Preparation and organization on the big day should not be neglected!
Need help finding a qualified florist?
By organizing your wedding on our property, you are free to choose the service providers who will accompany you. But given the vast choice of florists in the region, we'd like to give you a helping hand with this shortlist of competent professionals:
Ninon's flowers
Wild teepee